Tuss Sails English
About
The establishment of our company dates back to the 1920s.
My grandfather, Dr. Miklós Tuss, was actively involved in the development process of the Hungarian competition sailing. He participated in the Amsterdam Olympic Games in the 6R yacht category. He built 13 ships (including 4 30-Schärenkreuzers and a 6R yacht) for the Lake Balaton, in order to reach better and better results.


My uncle, Jr. Miklós Tuss, started competing after the war in the following classes: O-yolle, Pirate, Finland, FD, Soling, Starship. He was a team member at the Munich (Kiel) and Moskva (Tallin) Olympic Games, and he was head of coach of the Hungarian national team. He won 4 Blue Ribbons (Kékszalag) and a White Ribbon (Fehérszalag). In the large sailing classes he was competing in the following categories: Dragon, 11m OD, 75 Schären, 40 Schären, 30 Schären, B31, Eliott 770, Garuda. He started sailmaking in 1967.
Zoltán Csury started sailing in the late 70s (Optimist, Cadett, 420, 470). For years, he was member of the Hungarian national team. Between 2002 and 2004, he worked as a trainer at one of the 470 units, which was preparing for the Olympic qualification. He ran in 2 Blue ribbons and 1 White Ribbon Race. Among the large sail classes, he competed in the following categories: J24, Dragon, 8M OD, 11m OD, Eliott 700, Nautic, B31. He joined sailmaking in 1989.
Recently, we competed together in the ASSO class.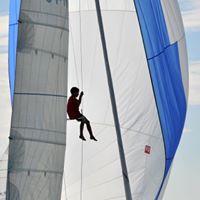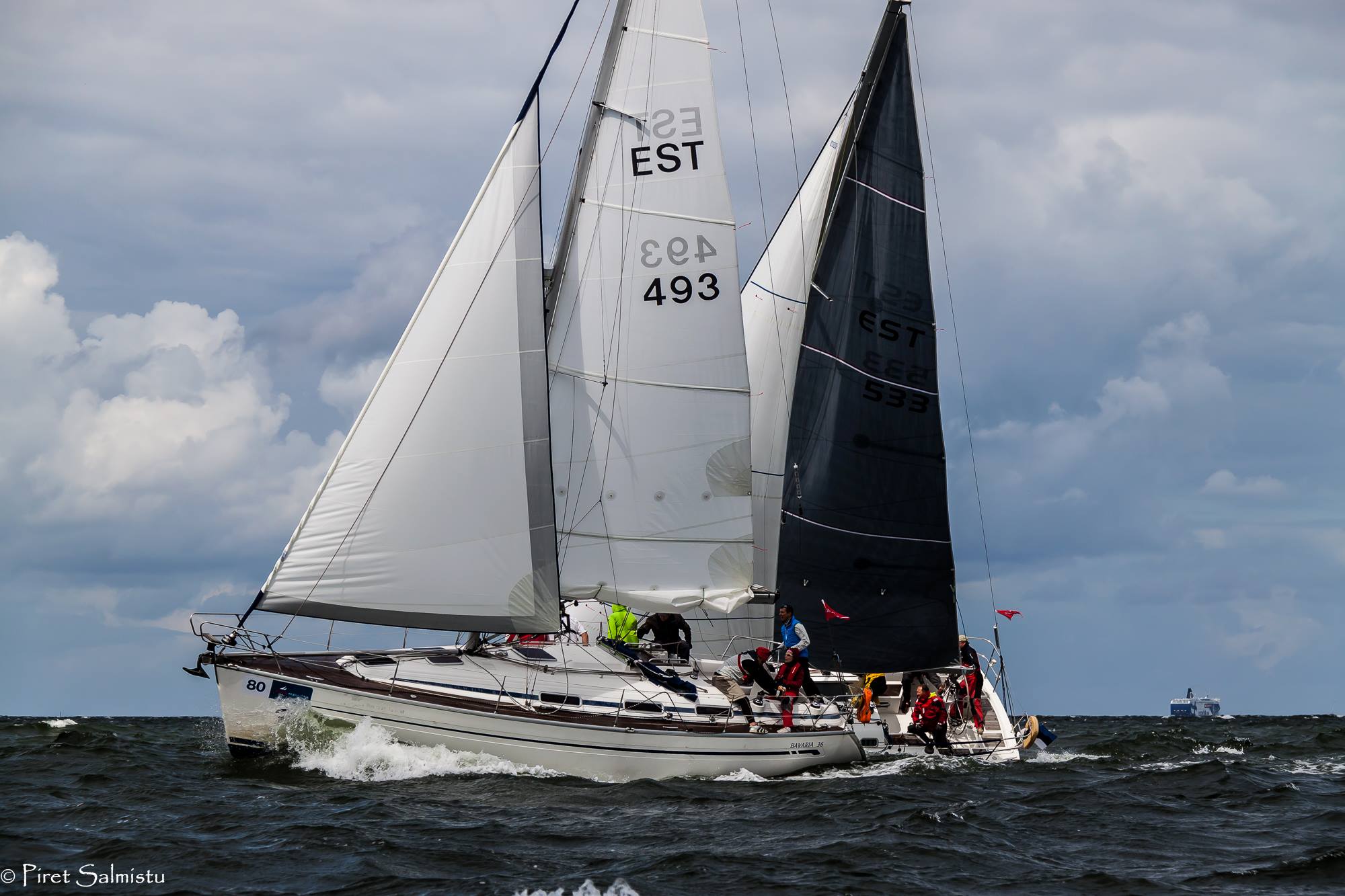 Decades of experience in competitions help us to improve the most successful sails for all kinds of ships.
At the end of the '90s, we were the first company in Central and Eastern Europe to work with computerized sail-cutting.
Since 1990, in order to secure the quality, we only work with POLYANT, CONTENDER and BAINBRIDGE materials.
In 2001, we started the gluing of competition sails.
In 2005, with a help of a European Union grant, we bought a new British made sail-cutting machine and software.
We have served the sailing society for almost 50 years. In the last ten years, we have expanded our team up to 8 members, and we supply more countries in Europe with sails. We make sails for any kind of ships, starting from an Optimist up to an Atlantic crossing vehicle. Over the past ten years we expanded our team onto eight man, we delivered sails in to more european countries. As Hungarian sailmaker we are very proud, that we are present on the scandinavian market as well and they are sailing with our sails on Swedish, Finnish, Norwegian, Estonian... waters We truly hope that you will have the chance to try our sails.
Zoltán Csury
Contact information:
Office:
TUSS Ltd.
H-1034 Budapest, Beszterce street 26.
Tel./fax: +36 1 3687824
E-mail: tuss@t-online.hu, tuss@tusssails.t-online.hu
Workroom: H-1037-Budapest, Bécsi út 267.
Sailmaking
World-class sailmaking at an affordable price
Do you need a new sail? Would you like to have a durable and long-lasting trip-sail? Would you like to gain a competitive edge due to the high quality of your sails? Whatever sailmaking needs you have – TUSS SAILS has a solution for you!.
Sailmaking for 70 years; international engineering, local experience
Today, there are many great sailmakers in Hungary and abroad. Why is TUSS SAILS the best? Because the Tuss family has been sailing and racing on Lake Balaton for 70 years with exceptional results (see here). Our company and our sailmaking skills have been forged and hardened by countless races using our own sails. We know the winds of Lake Balaton and Velence; we know how to capture them effectively and harness the power they provide. Additionally, our sailing and racing experiences are combined with our engineering expertise. Our developers do not just use the sails as sportsmen, but as engineers. Our knowledge is built on experience and science, resulting in 70 years of sailing excellence.
Sailmaking for everyone
TUSS SAILS are not mass produced: each sail is custom-made, personally for you. During the preparation of the sails, we give free consultation to our clients regarding the fine tuning of the rigging. We assess your needs and adjust our sailmaking accordingly: durability, efficiency, low weight, and beauty. What are your expectations from TUSS SAILS? Tell us, request a quote. Your sailing will be more measurably more enjoyable with an excellent, Hungarian-made sail.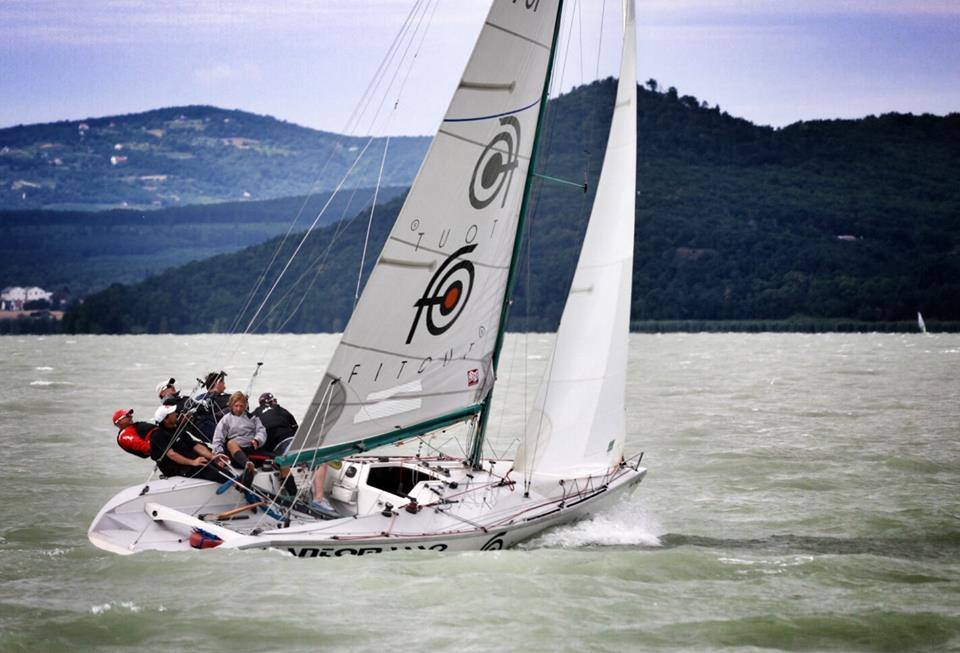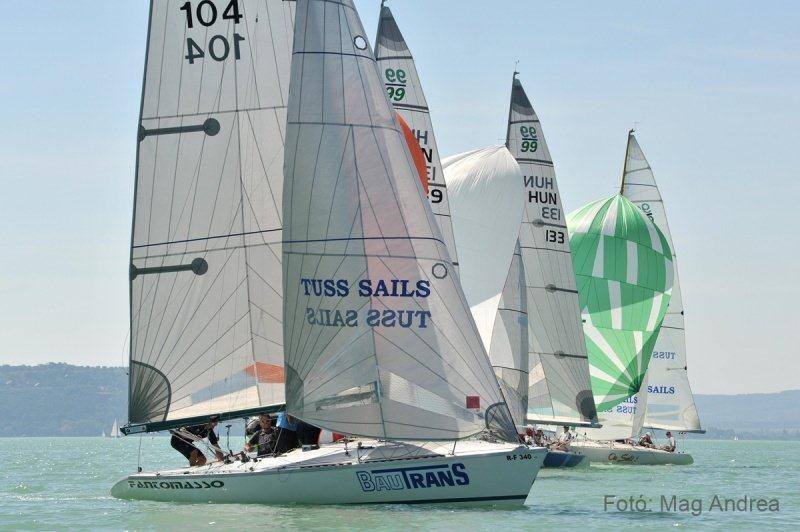 Advertising on sails
Advertising on sails, stickers, sail painting, logos and marketing slogans
Sails provide a natural advertising space. On any given summer's day at the beach, the ads, logos and endorsements printed on our sails will be seen by hundreds, with that number increasing exponentially during competition. Whether it is your own company or or a colleague's products or services, it is unique opportunity for exposure to potential customers. A colorful sail is much more aesthetically pleasing, and a team with a sponsor's logo looks that much more professional.
Do you need one time or long-term insignia or logo? The experts will help you decide
Is an insignia or logo for only one competition or for multiple seasons?. Our engineers are fully aware of which materials or techniques are good for different purposes. Which label can be easily removed after a race, and which applications have lifetime durability. We evaluate your needs, the surface, the purpose of the label. Upon your request, your logo or script, or even company brand can be designed by our own graphics team.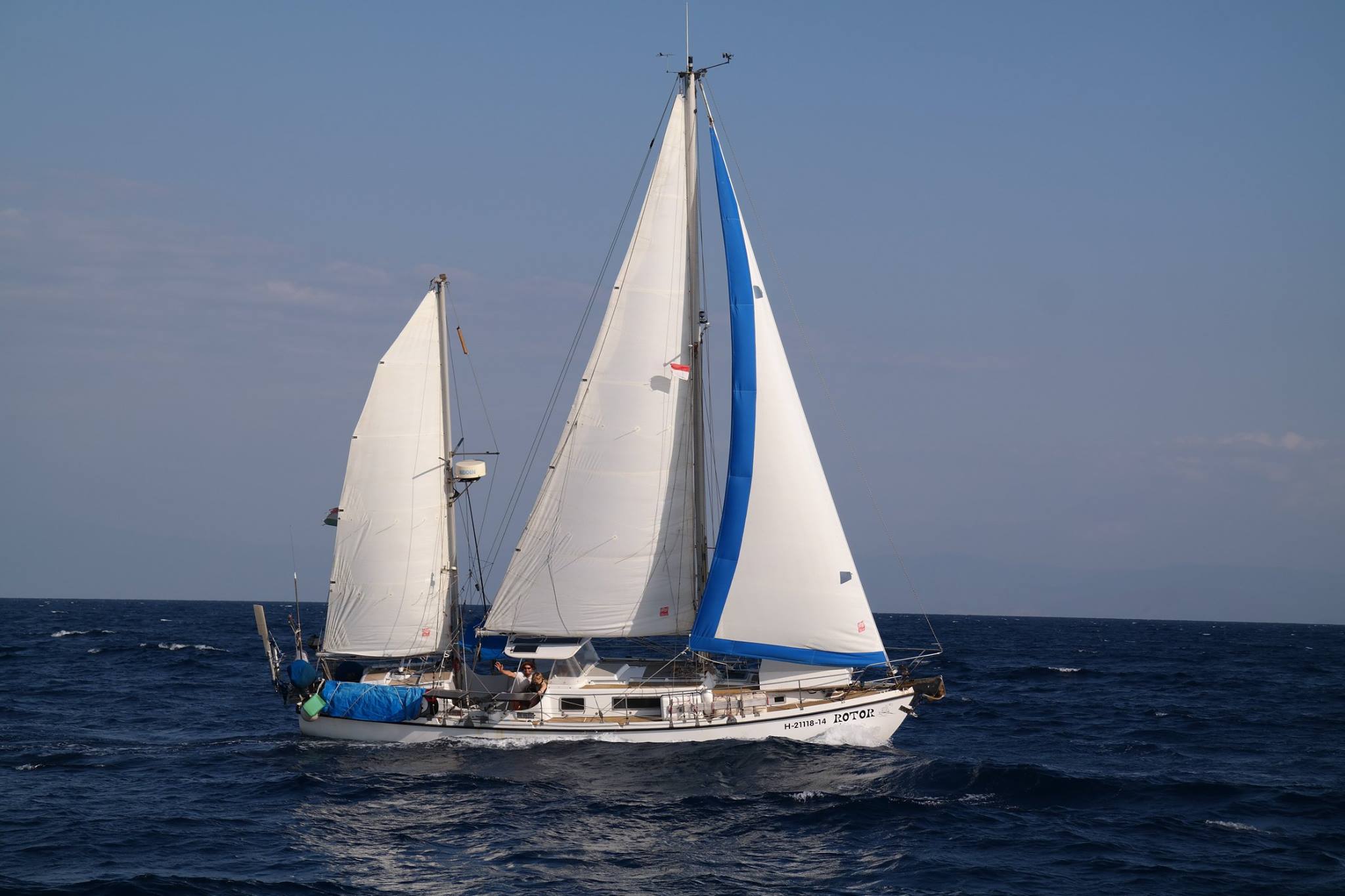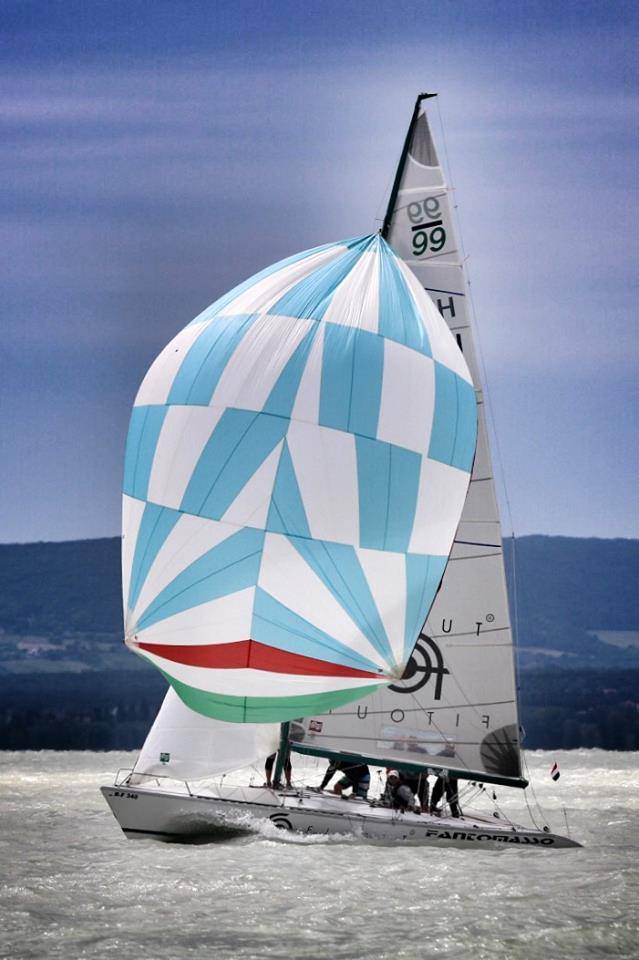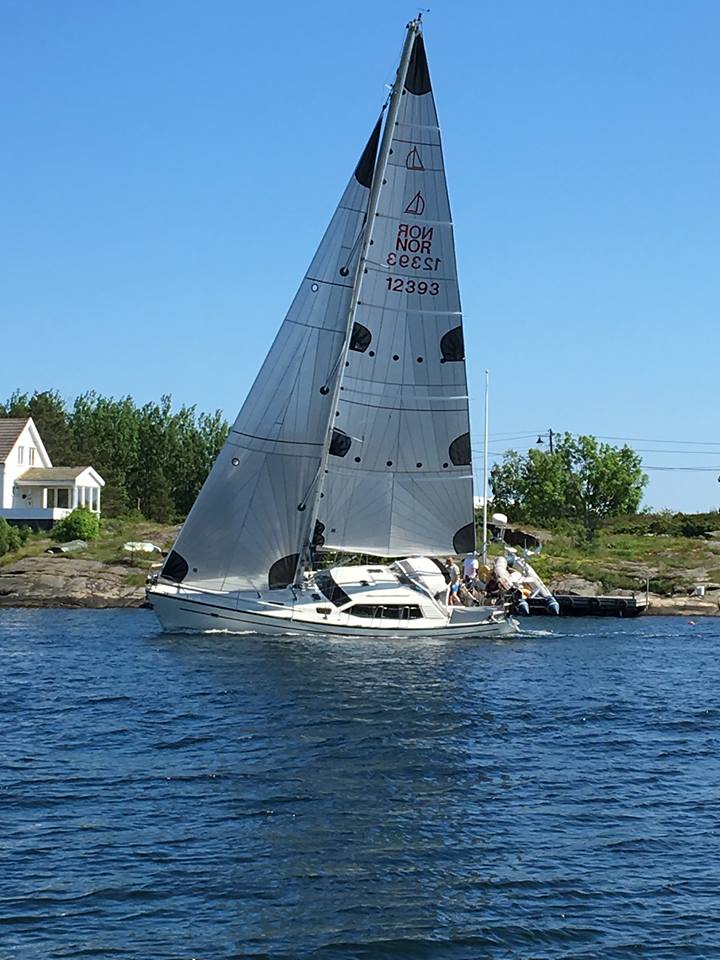 Accessories
Protect your sail – it will thank you for it!
The best solution for storing the reefing genoas on the forestay is to roll them up cleanly along the forestay. However, if the sail is not protected against UV rays and dirt, soon a dirty and dark stripe will appear along the backside and the lower edge. The canvas, and particularly the seams are likely to acquire mold on that stripe.
Sewing an edge protection strip to this place will give good and comfortable prevention, however, this extra piece of material also means extra weight – which is a disadvantage in poor wind. In certain circumstances, the sewed protection strip could also blow away. As this strip hits the mast and the rail repeatedly, after 3-5 seasons, it will become frayed and will need to be replaced. This is quite expensive, as the entire sail needs to be taken to a sailmaker. We only suggest the sewed protection if the sail is larger than 25-30 m2, its diameter is larger when rolled up, or if the shot connection is too high.
The jib stocking or the protection stocking
The best protection for the sail is jib stocking. We make our Tuss sails jib stockings from a waterproof, but breathable polyester material, so that the sail can breath. A robust plastic through-zipper closes the stocking. With a pulling cord it is possible to constrict the entire stocking tight enough so that it will not flutter even in the port wind. Over a certain size, the jib stocking is divided into two parts.
Using the jib stocking
We either take off the shot from the rolled sail, or put it under it. We tie up the jib stocking on the spi-fall, put the upper part of the stocking on the sail, and pull down the zipper a bit. Than we pull up the stocking by hand, and than zip it in step-by-step. If we fix the fader of the zipper by a string to the bow cart, the stocking will compress itself during the pulling. Similarly, during pulling up, the cord needs to be pulled taughtly, so that the stocking shall stand taut on the upward tapering sail. The remaining rope needs to be tied below.
The material and color of the jib stocking
The jib stocking can be made in different sizes, in many colors, from 150-250 gr/m2 polyester materials.
Our products
Mainsails
Thanks to the computerized cutting, we can prepare any type of sails, according to your needs; whether it be a horizontal scale classical or a tri-radial or bi-radial style, weak-wind-sail, strong-wind-sail or a sail for any wind. We also have a wide range of materials, crease-resistant tour materials, low-stretching pentex, kevlar or carbon-fiber materials.
Regarding the shape: big bat form sail or standard through battens, with multiple reef lines, first edge slider or with carrier or traditional tie-backs. Accessories: window, sailing wears, reef lines, class and race number indicators, trim-cords which can be adjustable at released sail in downwind. For special races/winds we also prepare D4 sails.
Genoas
Headsails
We suggest the use of different headsails to different wind strengths. The deepness of the mainsail can be changed by bending the mast, but at the headsails very little changes can be made by straining the forestay.
Our radial spinnaker is made of nylon woven touring materials, so it is most perfect against creasing. This is the most economic method of cutting sails, therefore, this kind of sail has got the most reasonable price. Recommended for touring.
Spinnaker for horizontal small boat
For double-jolles, up to 150 kg ship weight.
Spinnaker for horizontal big boat
It is made of nylon woven Touring materials, so it is perfect against creasing. It is good for touring. This cutting method can give the best price to the spinnakers.
Tri-optimal spinnaker
Tri-optimal spinnaker Made of polyester materials, for all kinds of winds. For those who race regularly.
Tri-radial spinnaker
Tri-radial Made of nylon and polyester materials, medium width sail. For touring and court-racing.
Blisters
Galesails
CIKKEK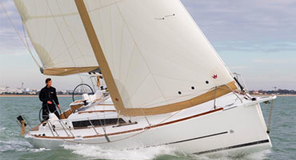 A Magyar Távközlési Vállalat 1990-ben Balatonkenesén megvásárolta az ÉVM üdülőt. Lehetőség nyílt arra, hogy dolgozói sport céljaira létrehozzunk egy vitorlás szakosztályt....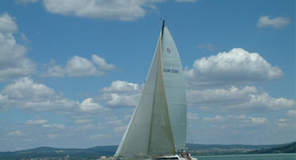 Csapatunk: Tuss Miklós, ifj.Zeöld Ákos, Kelemen János, Málnás András, Hőnich Imre, Csury Zoltán (Id. Zeöld Ákos szakosztályvezető: Kékszalagra készülődve többen ajánlkoztak, hogy...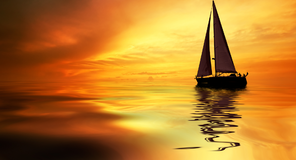 Csapatunk: Tuss Miklós, Straub Elek, ifj.Zeöld Ákos, Ifj.Bárány István, Bárány István, Csury Zoltán (Id. Zeöld Ákos szakosztályvezető: Egyetlen önjelölt kormányos sem jelentkezett a...